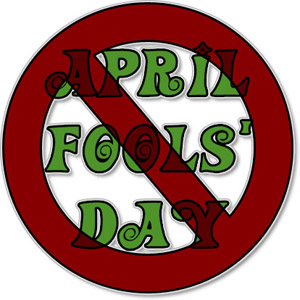 April Fool's Day is happily (go ahead, call me a scrooge!) in the rear view mirror. That said, any trip down the wine aisle can make it feel like Groundhog's Day. Amongst the wall of bottles some winemakers feel the need to go the extra mile to stand out. My initial reaction on seeing these is that someone is trying to pull one over on me. Should I find the contents of the bottle interesting I step back to, perhaps a more appropriate mantra given the day, "Fool me once shame on me…"  And with that I find myself anticipating whether I've been duped until the bottle opens.
When the chance was offered to sample some wines from (oops) I was eager to see if an interesting label could back it up with an interesting wine. On reviewing the winemakers offerings it seems each had a Carmenere component included. For those that may not know Carmenere is the flagship grape of Chile. I first stumbled upon it when Zinfandels started climbing in price years ago. When I think Carmenere I am reminded of leather, plum and pepper but above all smokiness. If you are looking to try your first I recommend the Casillero del Diablo Carmenere. Doesn't make subtle wines by any means but I am a big fan.
So what's next? Opening the box I was immediately intrigued upon finding a Sauvignon Blanc was 15% Carmenere. An interesting blend, especially in a white, given how assertive this grape can be. Curious, I chilled and cracked the screw top. First, let's see what the winery had to say:
oops Cheeky Little White Sauvignon Blanc 2008
85 % Sauvignon Blanc, 15% Carmenere
Colchagua Valley, Chile
Imported by AV Brands
Suggested Retail: $12
"Sauvignon Blanc is the rising star varietal from Chile, and this wine shows what all the buzz is about. Light gold in color with a hint of green, the nose is expressive, varietal, and complex, with lemon and lime zest, green apple, green chile, mineral, and floral aromas. A small percentage of Carmenère adds a layer of dried herbs and white pepper. On the palate, the wine is fresh, with perfect natural acidity, medium body, and a long, persistent finish."
My first impression upon this one landing in the glass was amazement. How could it possibly be so clear given the amount of red wine blended here? Golden hued in color but almost transparent. On the nose I find nice lime notes with pink grapefruit aromas lingering. On the palate the mouth feel is rich and heavier than what is expected from a typical Sauvignon Blanc. Perhaps there is something more lurking back there but I can't quite identify. That said it ends in a flurry heading to a tart, tangy finish. It was interesting to search for the Carmenere which had the potential to make this a unique offering. Alas, it wasn't readily recognizable beyond the weight of the body. Still a nice wine to drink. Should it accidentally find its way into your cart feel free to say "oops" and head for the checkout. Otherwise pass and grab that Carmenere I mentioned above…
I'd like to thank Rob Bralow and the folks from the Wines of Chile for the opportunity to sample this (and other) wines. One of the others is the oops Cabernet Franc so more on this topic to come. Stay tuned!
Question for you: What is your favorite Chilean white wine?