One of the biggest obstacles I face in helping many readers is knowing what is on the shelf at your local Trader Joe's. Given that you can imagine my excitement when Joe Sears reached out to let me know he had recently embarked on a journey through the wine aisles of Trader Joe's in New York City. Joe, who blogs at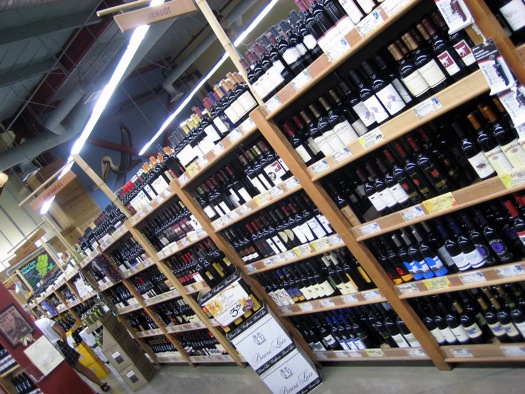 WineHunterNYC.com, is focused on finding wines that can appeal to those who need to locate affordable wines, but can also reminisce on the great tasting experiences etched in our memories. Given these tenets he sets out to identify those wines that can deliver beyond their price points. Let's see if he found any at Trader Joe's, here's what Joe has to say…
******************************************************************************
So, as some of you know, I have been on a relentless pursuit of NYC's most affordable wines. I have finally checked out Trader Joe's- on 14th Street just East of the termination of Irving Street ( the extension of Lexington Avenue after 21st Street- from 20th Street to 14th Street (going South). But let me stop the map references- this store has major low budget wine buying potential. I initially went in looking for wines under $15/20 per bottle, but was enamored with "$10 and under" offerings I saw as potential, "try one bottle and see" decisions. I dove in and with total experimentation (first time tasting all the way), here are my notes:
2008 D'Aquino Orvieto Classico
($5)- Pale gold, with some green highlights. Delicate nose with some floral, mineral, and perfume notes. Light and delicate on the palate, with pleasant notes continuing. No real complexity here; charming with nothing really standing out (may be over-produced?).
2008 Epicuro Vermentino Lazio ($6)- Light yellow/gold. Aromatic nose, with ripe, mineral tinged fruit and some alcohol/acid burn. Character and flavor components dance on the palate, with a characteristic Old World Vermentino profile- melon and limestone flavors. Great acid balance (crisp). Moderate finish. A winner at this price point.
2008 Chateau des Cleons Muscadet ($7)- Golden color with some green highlights. Crisp, green apple nose with some floral and perfume notes. Crisp and flavorful on the palate (above flavors following) with a flinty aspect as well. Great balance and moderate finish. A winner at this price point. (Jason's take)
NV Blason de Bourgogne Cremant ($10)- Light yellow/ good effervescence. Faint fruit and mineral tones on the nose. Totally disappears on the palate- no fruit or mineral, just the bubbles with a slight feel of alcohol.
2008 Jean-Luc Colombo CDR Blanc ($10)- Pale gold. Mineral notes (wet slate and limestone) present, with some subtle fruit and floral notes. An initial banana flavor on the palate, (which eventually dissipates), with medium to full acidity. Delicate fruit tones follow with good balance and some minerality. Good entry level Rhone white wine.
2005 Three Knights Chardonnay (Russian River) ($7)- Platinum/ pale gold- some green tones. Very ripe nose, with melon, citrus fruits, and floral notes. Hints of orange peel. Slight limestone (soil) and vanilla (barrel) components. Lively burst on the palate, with everything above showing up- but with great acidic balance. Short finish, but this wine delivers for the price point. Russian River pedigree and great bottle age for a $7 wine.
2008 Caves Perrieres Pouilly Fume ($12)- Entry level Sauv Blanc from the birthplace of this varietal. Straddles both Old and New World components in the best attributes each has to offer (please ask me to expound on this). Pleasant and not complex, but with good character. Moderate finish, and right where it should be for the price point ( i.e. no "bargain, no rip-off").
Next: The red wines…
******************************************************************************
Did you enjoy this article? If so check out more of Joe's recommendation on WineHunterNYC.com. Thanks again Joe!