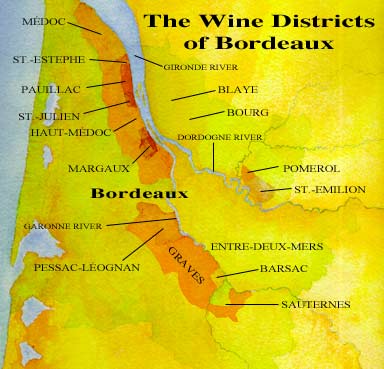 Ah Bordeaux! Where to begin… Bordeaux and I have been trying to reach an understanding now for what seems like forever. You see when I was new to wine I didn't exactly feel welcome if fact I was intimidated. With the mystique of the 1st growths it always seemed to be the holy grail of the wine world. The exclusivity the prices demanded made me feel like an outsider looking in and wondering if I'd ever be part of the club.
So you try a few and to no one's surprise you don't get it straight away because Bordeaux is for the most part inaccessible to those just starting to learn about wine. How so? Should I count the ways? 1) Certainly by price. 2) These wines typically take years to shine which is problematic for those that didn't start collecting ten years before they became enthusiastic about wine. And finally 3) The newbie palate struggles at best to enjoy future greatness now; especially when they can only afford to shell out $30 once. Of course this is all rendered moot if you are lucky enough to have a wine sugar daddy with a deep cellar to teach you the ropes (if you are out there listening I am a willing apprentice…).
Now over the years I've tried hard to gain an understanding. Obviously Trader Joe's is not the place to be learning about Bordeaux. So I've purchased a fair number of wines that K&L Wines, a favorite retailer and Bordeaux mecca, spoke highly of in their newsletters. With some learnings I decided to try an older offering or two starting with the 1994 Les Ormes de Pez, St-Estèphe ($30). Around that time I had my first child who I wanted to build a cellar for. That pushed me to accelerate my efforts. Around the end of 2009 I had a memorable experience with the 2006 Cantemerle, Haut-Médoc ($30). I followed this up in early 2010 with tickets to Fête du Bordeaux , a K&L tasting dinner, where I sampled a handful of the 2007 vintages but more importantly a handful of aged offerings from 1975, 1990 and 2000. During the holidays I had my best experience yet with the 2001 Larmande, St-Emilion ($40) which I picked up for a dinner with friends. Smooth, elegant and balanced a fantastic bottle for sure.
So where does that leave me? I still feel like a novice here. While I know the difference geographically between left bank and right I certainly can't speak to a bottle I've had from each of the major appellations. With that said you can imagine my pleasure when I received an invite to the recent Union des Grands Crus tasting that was recently held here in San Francisco to celebrate the 2008 vintage. A fantastic opportunity to learn more. I covered off on my findings there in part two of this post. In the meantime I have a few more Bordeaux's of interest on hand. Another of the 1994 Les Ormes de Pez I recently picked up from K&L Wines. And a few I got from friends as special gifts over the years; the 1998 Chateau Figeac St. Emilon as well as the 1998 Cos d'Estournel, St-Estèphe. Other than that I am always open to suggestions though my budget may limit my ability to act on them… And if anyone out there is looking for an apprentice you know where to find me. Cheers!
Interested in reading more on Bordeaux? Check out my thoughts on the 2008 Vintage…